ISEE Entrance Exam Information
An overview of the ISEE test may be downloaded from the ISEE website at http://isee.erblearn.org/guide.aspx.
Test Registration
Please register your daughter and pay the required ISEE exam fee before November 24th to avoid a late fee.
Create an ISEE Account
To register for the Sunday, December 19th ISEE Entrance Exam at the YULA Girls Division:
Go to https://iseeonline.erblearn.org and create an online account.
Add the student's information
Select "New Registration" to register "By Event Code."

Grade Applying: 9th
State: CA
Member Code: 054370 (YULA Girls Division code)

Click on Search and then click on YULA.
Register for the YULA Test Date and Location
Select "search and register for available tests"
Use our invitation code to register for that exam date: HHVVU66G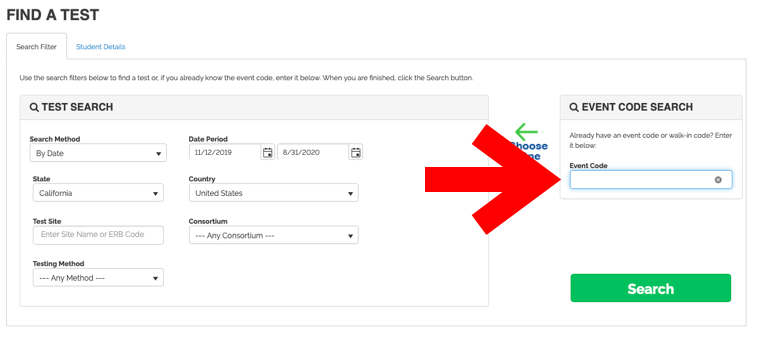 When you go to "search and register for available tests," put our code RD7T37H7 in the box as shown in the photo at the bottom of this page in the "event code search" and ignore "test search" on the left.
For more information, please contact Samira Miller at smiller@yula.org or 310-203-0755 x 2309.
Schedule
8:00am: Check-in/Registration & Tefilah
8:30am: Test Begins*
2:30pm: Pickup
Location: YULA High School Girls Division
1619 S. Robertson Boulevard
Los Angeles, CA 90035
Lunch will be provided.
*Please note that per ISEE/ERB rules and regulations – No student may be admitted once testing has begun.
Required Documentation
At check-in, students must present their ISEE Verification Letter and Identification. Acceptable forms of identification are:
Birth Certificate
Social Security Card
School Report Card
School ID
Passport
Green Card
Test Regulations
The following materials are prohibited during testing:
Scratch Paper
Books
Calculators (or calculator watches)
Cell Phones
Beepers (or any other similar electronic devices)
iPods, MP3 Players, Electronic Games
Compass
Ruler
Dictionary or Thesaurus
Any other materials which may provide assistance to students answering test questions
Students may bring reasonable snacks for the breaks (fruit, cookies, etc.) but no food, drink, candy or gum may be consumed DURING testing.
Additional ISEE Accommodations:
With prior approval from the ERB, below is an additional list of accommodations that can be administered at a standard ISEE test site in a standard timing testing room.
These accommodations could include any one of the following:
Graph/Lined Paper – Provided by Family
Graphic Organizer – Provided by Family
Multiplication Table – Provided by Family
Math Reference Sheet – Provided by Family
Access to Medical Supplies/Snack/ Drink at all Times During Testing
Preferential Seating
Highlighter – Provided by Family
Ruler/Index Card/Tracking Device – Provided by Family
Colored Overlay – Provided by Family
Magnifier – Provided by Family
Noise Reducing Headphones/ Earplugs – Provided by Family
FM System – Provided by Family